Resort Info...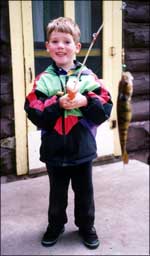 Since 1951, the Noetzels have provided:
14 clean, comfortable one, two, and three bedroom cottages equipped for light housekeeping
Lodge with full liquor bar, pizza, premium ice cream, candy, chips, games, and much more
Professionally maintained park-like grounds overlooking an 800 acre lake
Playground with swingset, teeter-totter, sand box, toddler play structure
Boat and motor rentals. One boat is included with each cottage.
Planned activities: volleyball, horseshoes, softball, potluck cookout
Roped-in swimming area with gradually sloped sandy bottom for children
Plenty of dock space with ladder and benches
Swimming/waterski platform (14' x 14') located 150' offshore in 7' water
Idle Hour offers seekers of rest and recreation a second family home composed of 14 well-kept rustic cabins. All cabins are furnished and clean with ample kitchen utensils and dishes for housekeeping. However, if you wish, bring along your favorite electric coffee pot, electric frying pan or other handy conveniences. Every cabin has a propane heater or fireplace to keep you comfortable. Additional blankets are available. Clean hot showers are centrally located for your use. Our four season cabins have been recently remodeled, including showers.

Pets are welcome but must be cared for properly. A few common sense rules apply for the safety and comfort of all.

We will do everything we can to make your holiday the best family vacation ever. We have over 55 years of experience providing a friendly environment with clean, comfortable accommodations. Include us in your vacation plans.

For additional info call, write, or email us at idlehour@centurytel.net.

Rates...

Sat-Sat Check-in 2pm Check-out 9am)

1 Bedroom Cottage:
$390/wk $75/night

2 Bedroom Cottage:
$465-$540/wk $90-$105/night

3 Bedroom Cottage:
$610-$710/wk $110-$130/night

Eight cottages on the lake front (20' to 100' to water). Six cottages overlooking the front lawn all with a view of the lake.

Cribs: Free of charge, if available
Extra boats: $10/day; $40/week
Personal floatation: no charge if available
Outboard motors :10 HP and 15 HP
Weekly - $175
Daily - $40

Gas and Oil: Sold on site
Bait and Tackle Shops nearby

We're easy to get to!
From Chicago and Milwaukee, take Interstate 90/94 to Portage, WI. Take Interstate 39-North to US Highway 51. Travel North on Highway 51 to Minocqua and turn west onto State Highway 70. Take Highway 70-West for approximately 20 miles to Route 144. Go north for 1/2 mile then turn right at the sign to the Idle Hour Resort.